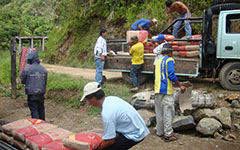 The CDRDS, Inc. Supports the Cordillera people's collective effort to address the problem of disaster vulnerability and increase their capability through citizen-based, development-oriented disaster response.
To assist the organized vulnerable sectors of the Cordillera population in the fields of disaster preparedness, response, and mitigation, and in terms of rehabilitation work.
To mobilize those sectors of Cordillera society, who are less vulnerable to disaster towards providing support for the more vulnerable ones.
The CDRDS is also commited to enhancing the capacity of communities in sustainable socio-economic and agricultural development in the Cordillera indigenous culture, even in the absence of disaster.